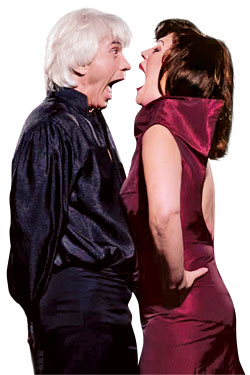 Sondra Radvanovsky and Dmitri Hvorostovsky have recently been on tour in North America, and Delos will be releasing an album with Sondra Radvanovsky very soon, so today we thought we would share a fun piece from New York Magazine about the two of them together:
Sassy soprano Sondra Radvanovsky and smoldering Siberian baritone Dmitri Hvorostovsky—opera's best friends forever—talk to Rebecca Milzoff.

It helps that they're not romantically involved. Still, in the ego-inflated opera world, Radvanovsky and Hvorostovsky are remarkably simpatico, and, what's more, refreshingly down-to-earth. Devotees of both will no doubt storm Carnegie Hall April 1, their final stop of a North American tour.

How did the two of you meet?
S.R.: He met me first, and I was very un-nice, apparently.
D.H.: I saw Sondra singing in Il Trovatore at the Met, and I was so overwhelmed. I went backstage and showered her with compliments. And she was kind of … cold. I understand. Sometimes you feel your brains, your imagination is still onstage, and you can't communicate with anyone after the show.
S.R.: Dmitri didn't know that he was my opera boyfriend! I was completely in love with his voice. I was very shy, so I just said thank you and walked away, because I thought I might start crying. And he thought I hated him!

You two are now close enough to—according to one story—share pants.
S.R.: Dmitri showed up to a photo shoot in jeans, thinking it was just going to be a headshot. Now, Dmitri had a pair of pants I really liked that were my size, which is embarrassing, but there you go, it's out there. I had brought my tuxedo so I told him to put those pants on. And I swear to you, I have not worn them since, because they look better on him.
D.H.: The length was fine. They were very good to me.